Who
We Are
---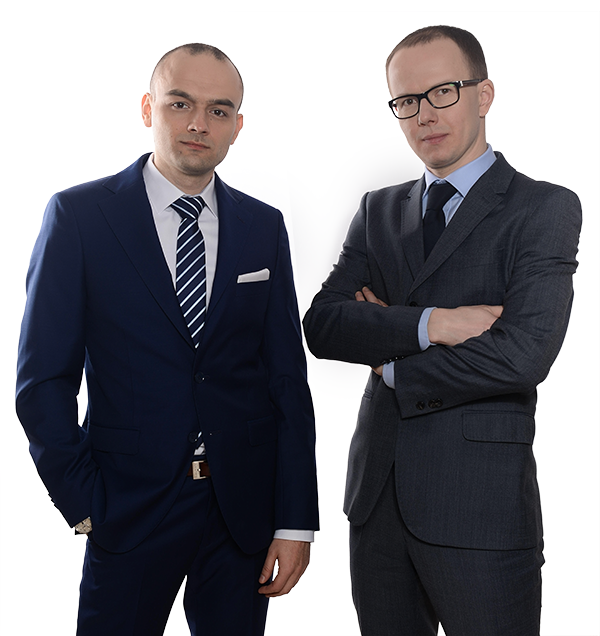 Rojkowicz Skoblenko
& Partners
Law Firm
A team of experienced lawyers whose expertise covers legal advice for Clients operating in Polish and international markets (notably in Eastern Europe and Central Asia). We aim to perform our services in a professional way, with full and close co-operation with the Client, while finding and employing efficient and unconventional solutions to the tasks we are faced with.
We aim for our Clients to see us as not only reliable and solid lawyers, but also as capable business advisors, able to cope with the dynamics of the constantly changing market. Our team members have gained their experience in co-operation with varied Clients working in different environments and segments of the market. We also have excellent command of foreign languages, and our skills are further enhanced by our close collaboration with experts in various fields (tax advisors, accountants, customs brokers, and business advisors) which helps us provide our Clients with comprehensive services of even the most complex operations.
How We Can Help
---
Business Counselling

We advise our Clients in all aspects of their business activities. Our services include legal and tax planning and help in choosing the optimal way to conduct their business, founding and purchasing companies as well as their running legal management, including the creation of legal analyses and opinions, drafting contracts, internal and all other documentation.

We offer comprehensive legal assistance wherever it may be needed to build and develop their businesses. For many years we have provided legal aid to Clients from various fields, on varying stages of their activities, which helps us better comprehend the market and guarantees experience and expertise in these fields. We work with Clients from the manufacturing, constructing, hotel, pharmaceutical, automotive, restaurant, transport, and IT industries.

Companies and Corporate Law

Legal services within the fields of companies' and corporate law is among the most prominent of our expertise areas. We provide legal aid with all types of companies, including capital and personal companies and other entities conducting business activities in Poland. Both proprietors (shareholders) and members of organs of the companies (Members of the Board of Directors as well or Supervisory Board) can benefit from our services.

We provide comprehensive legal assistance connected with such deeds as changes to the statutes and articles of association of companies, increases and decreases in share capital, approval of financial statements. Furthermore, we provide assistance in preparation of meetings of the Boards of Directors and Supervisory Boards, General Meetings of Shareholders, all of which we can also – upon the Client's request – coordinate and conduct. We carry out changes in the composition of the aforementioned organs, as well as the proprietor structure of the companies. More extensive capital structures can benefit from the detailed regulations of the functioning of their organs which we can also prepare.

Our attention to detail has often proven essential for our Clients' corporate interests, while our readiness to answer and address all questions or doubts that our Clients may have.

Capital Market, mergers and acquisitions

Our Office carries out complex schemes in the field of capital market law for our corporate Clients, such as issuing financial instruments in the Warsaw Stock Exchange as well as the alternative trading system NewConnect or the bond market Catalyst. Besides casual consultancy we also offer long-term support with the fulfilment of information obligations as well as with the purchases or sales of financial instruments (including tender offers).

We support our Clients and take part in M&A investment processes aimed at purchasing or selling shares in all types of companies, purchasing and selling businesses or parts thereof, as well as the sales of fixed pools of movable assets of such businesses. We specialise in cross-border company mergers and have conducted M&A processes with companies from Cyprus, Malta and Spain.

We support our Clients on all stages of M&A transactions, ensuring their comprehensive preparation and execution, starting with due diligence analysis of the respective enterprises and giving the Client an opinion based on such an audit, through participation in the negotiation process, drafting of investment contracts, adjustment of the statutes of the acquired companies, carrying out of the entire investment process. We also ensure the safety and optimisation of the transactions, e.g. by utilising foreign company structures wherever necessary.

In our legal practice we use all legal instruments for the good of our Clients, in order to guarantee them the most profitable solutions to their problems.

Tax Consulting

Owing to our lawyers' experience in matters of taxation we offer our Clients the most efficient solutions aimed at minimising their tax burden, consequently ensuring our Clients tangible financial benefits.

Whenever proposing solutions to legal problems, taxation is always given special care. With this in mind we foresee the statutory liabilities and risks involved in all transactions and do our best to eliminate them in advance. We propose the best solutions by taking advantage of utilities present in both Polish and cross-border tax systems.

The quality of our services is guaranteed by long-time experience as well as close co-operation with qualified tax advisors.

Court Litigation and International Arbitration

We provide our Clients with assistance and legal representation in common courts of all instances, the Supreme Court of Poland, administrative courts and the Supreme Administrative Court, as well as arbitration courts, including the Polish National Chamber of Commerce or the Vienna International Arbitration Centre.

Our lawyers also conduct cases on the pre-court stage, including the facilitation of settlements and mediation. Based on our experience we create consistent court strategies, always bearing in mind the circumstances of the case, as well as our Clients' expectations and goals.

Handling of Transactions in Eastern and Central Europe

R&S Law Office was created with the aim of helping entrepreneurs conducting business in East and Central Europe. Close co-operation of law offices from Poland, Ukraine and Russia allows our Clients to accomplish their business goals bearing in mind the characteristics of each of these countries' legal and business environments.

We boast high success rate in administrative proceedings involving the legalisation of residences and work permits for foreign workers in Poland.

Owing to our experts' varied national backgrounds and experience, as well as their proficiency in the use of foreign languages such as Polish, Russian, Ukrainian, and English, we guarantee our Clients international legal services of the highest level. Our performance is further enhanced by our collaboration with specialists in other professions (auditors, translators, accountants, real estate appraisers). This centralised network of independent, permanently co-operating experts in Poland and abroad allows us to carry out even the most complicated projects efficiently and flexibly.